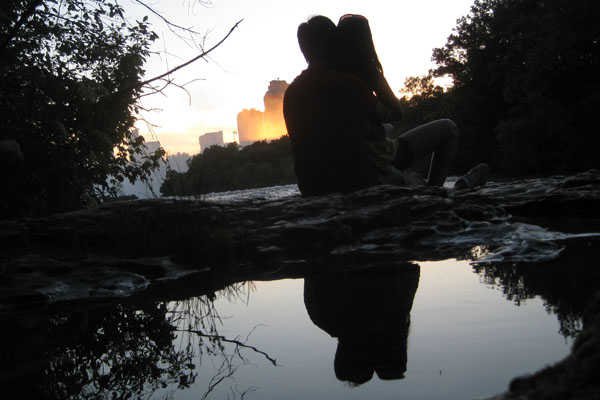 the

Proposal

On July 2, 2010, Evan and Jessi drove out to Niagara Falls, a place Jessi'd wanted to go all her life, from Evan's home in Vestal, NY. Jessi had been looking forward to this day for a long time, counting down for forty days, as it was the first time they'd be on vacation together with no scholarly obligations. Little did she know what the day would hold.

As they planned the day, Evan dodged inquiries including "Let's try to predict what our favorite part of the day will be." They explored the Maid of the Mist, the Journey Behind the Falls, and the food on the Canadian side, as Evan looked for his opportunity.

As the sun began to set, Evan made sure that was Jessi's favorite part of the day. With the plan of watching sunset over the falls in mind, they booked it back to the American side (which costs 50¢ each. Seriously, America?). Evan wanted to be totally alone, but this was a ridiculous goal at a huge tourist attraction on a holiday weekend. They trekked to Goat Island, then out to the third sister island, which sits above the falls in the Niagara River. Evan found a little rock from which they could watch the sun go down. A nearby rapids drowned out the noise of the surrounding pedestrians.

As the time got nearer, Evan began to grow more nervous, although Jessi's favorite part of the story is indicating how Evan was "being weird all day." Evan asked Jessi to stand up, and she gave him outs for extra time by kissing him, and turning him away from facing the people. Evan finally took a deep breath, asked "are you ready for this?" and dropped to one knee. Jessi took a huge gulp of air as her eyes expanded dramatically.

Jessica Lynn Buker,
I love you with all of my heart.
I want to be with you forever.
I want to be yours,
and I want you to be mine.
Will you marry me?


"ARE YOU SURE?!" were Jessi's first words, which Evan answered with "Yes, yes, I'm so sure" and many kisses. After hugging for a while, Evan pulled her back to ask, "So that's a yes, right" at which point Jessi finally answered the word Evan's heart had been so longing to hear.

Yes.

So they sat and hugged and talked and watched the last of the sunset fade away, then prayed together and began spreading the happy news!