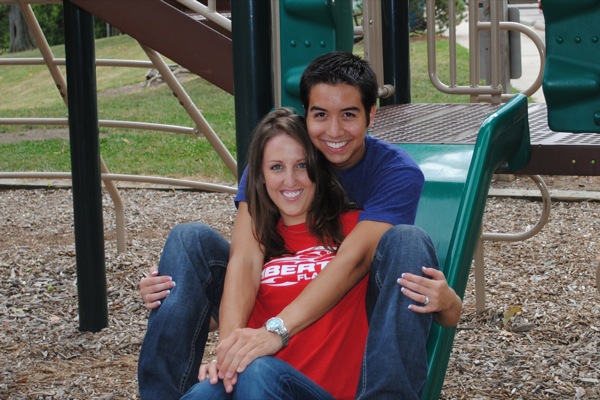 the

Couple
About the Bride
Jessica Lynn Buker grew up in North Carolina. Though being born in the north, she has (and always will) consider herself a southerner at heart. She was blessed to have two parents who prioritized her education and spiritual experiences, and were gracious enough to put her through 17 years of Christian education (beginning at Wake Christian Academy through Liberty University).
Her most significant memories include many sports games, along with countless hospital/emergency room trips, tons of sleepovers with screaming and giggling girls throughout the night, hilariously awkward gym conversation, and of course tons of song days (where everything makes you break out into a musical and sing an appropriate song for the moment).
Though growing up within the Christian educational system, her faith did not become her own until her junior year. She experienced a lot of personal growth through some very difficult times in her home church. She followed the Lord's guiding to Liberty University ("the most exciting university") at which the Lord continue to shape, mold, and grow her faith enabling her to lead others. He burdened her heart for marriages, families, and those burdened by psychological disorders.
Though she thought she'd finish her education in this wonderful place, the Lord slowly led her to step outside her comfort zone and to pursue a Clinical Psychology PsyD at Xavier University, in Cincinnati, Ohio. This move was a big faith move for her and she felt like the Lord had big things for her in Cincinnati. In Cincinnati, she has been blessed with amazing friends in her cohort and amazing opportunity to grow and share her faith outside of the religious culture she grew up in. Most importantly, the Lord has blessed her with a wonderful, godly man to be her best friend and soon-to-be husband. The Lord is faithful, and I could not have asked for more...
About the Groom
Evan George Chiu grew up in Vestal, NY. He had the super blessing to have two believing parents, who raised him in church. His favorite memories from childhood involve adventures in the woods, imaginations on bikes, video-game-filled sleepovers, competitive swimming (which produced confidence. I mean seriously, no matter what public speaking event, I've performed wearing much less) and learning to make his faith his own. He graduated in the top of his class from Vestal High School in 2oo4, and went off to college, wanting to learn how to make video games.
Cedarville University composed four amazingly fun, formative years for Evan. He learned how to be a man, and a gentleman. He found that God hadn't called him to video games, but more a more serious, less hectic programming schedule. He graduated summa cum laude in 2008, and moved to Cincinnati, to be a professional Software Engineer.
Since moving to Cincinnati, Evan's been blessed with a great network of friends from school and church, where he met his very best friend.
How we met...
The first day Jessi showed up at First Christian Assembly, she looked scared and didn't say anything. The first time we really talked, at the Thanksgiving Pie Fellowship, everyone thought she was with me because she was new, and I was the only person she knew. That night I wrote her off as someone who would be "just a friend." But God had other plans.
We really connected in Journey (Sunday School) when everyone was bashing Christian colleges and we loved Cedarville and Liberty. Jessi asked me to talk about being a Christian in a secular environment and possibly get coffee. I took this as a clear sign of interest and invited her to dance. She still wanted to talk, so I took her out to dinner ahead of time. That was our first date, December 7, 2009, a date that will live in history.
The next weekend I was stuck in Louisville, due to some crazy travel plans for my grandmother's 80th birthday. I knew Jessi would come get me, but I didn't want to ask her, I wanted the Lord to work it out, so I called Jason, asking for help. Little did I know he and Jen (who are both in the wedding party) tag teamed Jessi with the information, manipulating her into offering to and, ultimately, saving me. That day we talked and confessed that we were interested.
Christmas break came and we talked on the phone a few times. I waited all day on Christmas til my family went to bed before calling her. When she got back, I told her I was ready to make it formal. A week later, January 17, we spent the whole day together, exploring Mt. Storm, and we committed to dating for the purpose of exploring whether it was the Lord's will for us to be married.
And, He confirmed it to both of us!